Joseph Secor-Taddia, D.O.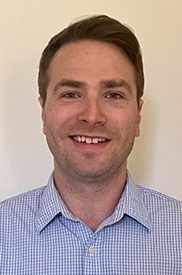 Osteopathic Neuromusculoskeletal Physician
Dr. Secor has been interested in medicine from the start with undergraduate degrees in biology and neuroscience and a masters in physiology and biophysics. He graduated from medical school at the University of New England College of Osteopathic Medicine where he found his passion for pain management and met his wife Victoria.
Afterwards, he completed his residency training in Neuromusculoskeletal Medicine at Larkin Community Hospital. In addition to Osteopathic Manipulative Treatment (OMT), he is trained in musculoskeletal ultrasound and interventional pain injections. With this skillset he brings a personalized, patient-centered approach to managing chronic pain and orthopedic injuries. He takes pride in his osteopathic training and is guided by the principle that the body is capable of self-healing. He uses a hands-on approach in assessing his patients and encourages them to be an active member of the treatment team.
When not working, he finds joy in playing and listening to new music, working on his old house, and spending time outside with his wife and dog Daisy. Whether you're suffering from chronic pain, an acute injury, want to avoid surgery, or are just searching for options that were not previously available to you, he looks forward to meeting you. Your health is his priority!

Office Location:
5818 D Harbour View Blvd, Ste. 150
Suffolk, VA 23435
Main Office Phone: (757) 215-1400
Main Office Fax: (757) 215-1403
Physical Therapy Phone: (757) 638-1800
Physical Therapy Fax: (757) 638-9442