Jessica R. Haynie, D.P.T.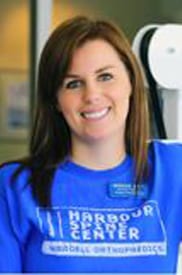 Doctor of Physical Therapy
Jessica graduated from the University of Maryland Eastern Shore with her Doctorate in Physical Therapy (DPT). During her undergraduate education at Chowan University, she was a student athlete, playing collegiate softball. This experience strongly influenced her love of fitness, athletics, and working with people. She enjoys boating, playing golf, and has a strong passion for her dogs. Jessica enjoys helping people improve their quality of life whether the goal is to return to sports, work, or just improve their mobility and lessen pain. Jessica first joined the team as a physical therapy tech in 2006, and then became a physical therapist in 2010. She has furthered her education by taking the following continuing education courses: Graston technique for soft tissue myofascial mobilization, counter strain fascial, Mulligan Concept for the upper quadrant mobilization and advanced shoulder and knee rehabilitation by renowned Kevin Wilks (PT, DPT). She implements these techniques to provide the most beneficial treatment for each patient.
Office Location:
5818 D Harbour View Blvd., Ste. 150
Suffolk, VA 23435
Physical Therapy Phone: (757) 638-1800
Physical Therapy Fax: (757) 638-9442