Edward N. Hayden III, D.P.T.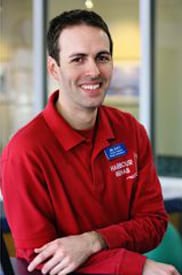 Doctor of Physical Therapy
Born and raised in Suffolk, Ed graduated with honors from Old Dominion University with a Bachelor's degree in Psychology. Ed has been a member of the Harbour Rehabilitation team since 2004 when he worked as a physical therapy technician. He then went on to earn his Doctor of Physical Therapy degree from ODU in 2009, graduating in the top of his class. Currently, Ed is working toward a certification in Fascial Counterstrain (FCS) through the Jones Institute of Strain-Counterstrain. He specializes in using Strain-Counterstrain along with various manual therapy techniques, including the Graston technique, to treat a variety of general orthopaedic and sports medicine cases.
Office Location:
5818 D Harbour View Blvd., Ste. 150
Suffolk, VA 23435
Physical Therapy Phone: (757) 638-1800
Physical Therapy Fax: (757) 638-9442