Craig D. Allen, P.T.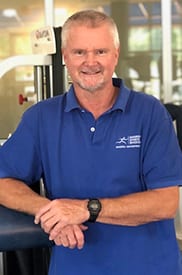 Director of Physical Therapy
Physical Therapist
Craig D. Allen, P.T., A.T., M.D.T., is a 1988 honors graduate from Old Dominion University. Immediately following graduation, Craig served as a Physical Therapist in the United States Army Specialist Corp. He spent 2 years at the World Famous Burn Unit in San Antonio, Texas, and 2 years in Fort Campbell, Kentucky with the 101st Air Assault. During his duty in Kentucky, Craig obtained his certifications in Athletic Training and Strength and Conditioning. He worked with various sports teams at Austin Peay State University and with the American Volleyball Professionals. He was Honorably Discharged as a Captain in 1993 and moved to Chesapeake where he resides today. While in the Army, Craig received several awards to include The Meritorious Service Award and Combat Casualty Care Leadership Award. In 1997, Craig passed the McKenzie Specialization Certification Exam for the spine. Craig has worked side by side with Dr. Wardell for the past 20 years. Together, they have brought the Spinal Decompression Therapy and Laser Services to the Hampton Roads Area. Craig has lectured professionally around the United States on "Rehabilitation of the Spine" and wrote articles for Synergy Therapeutic Services in the late 1990's. He is currently married and has 3 children. Hobbies include coaching Junior Olympic volleyball, training his yellow lab, woodworking and designing/building outdoor creations. Craig utilizes a hands-on manual therapy approach involving myofascial release, myostretching, spinal manipulation, Jin Shin Do accupressure and Graston technique.
Office Location:
5818 D Harbour View Blvd, Ste. 150
Suffolk, VA 23435
Main Office Phone: (757) 215-1400
Main Office Fax: (757) 215-1403
Physical Therapy Phone: (757) 638-1800
Physical Therapy Fax: (757) 638-9442